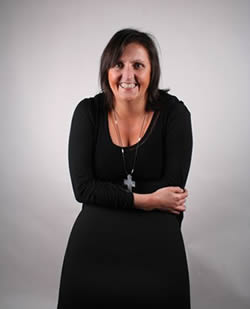 Jann Watt Director
jann@denovo.co.nz
64 4 496 1350
021 667646
Jann Watt, New Zealand's first Reach-Certified Personal Branding Strategist is passionate about helping motivated mid-career professionals find their career mojo. Personal branding is a key to helping people focus on the positives in their lives, and Jann's mission is to be catalyst for making work meaningful and fun.

After observing a number of highly talented people feeling unfulfilled in their roles, Jann stepped out of her corporate role in Organisational Development and launched de novo to enable her to follow her purpose of inspiring others to be the best they can be (and more).

Working in the public and private sector as well as having hands-on experience setting up and running a small business has enabled Jann to develop a wide and varied breadth and depth in her toolkit. Jann also has a wide range of life experiences that she draws on when working with clients. She is widely read in the area of personal branding and personal growth.

Jann has a reputation of being a forward thinker, yet always practical, quickly tapping in to the barriers that are holding people back and giving them the tools and confidence to achieve their career goals. To benefit of others, she shares her knowledge life experiences and network with authenticity and optimism. She is a firm believer that networking is all about sharing. This is clearly seen in the number of coffee chats Jann fits in to her busy week with people within her network.

Jann loves one-on-one coaching and is also adept working with groups in the role of facilitator or trainer. Jann has also built a strong reputation for working alongside Managers and their Executive Assistants enabling them to look for ways to build on their working partnership. She has spoken at conferences on networking and the importance of managing "brand me".

Jann's portfolio doesn't stop there and this is reflected on the back of her business card where it reads "any other challenge considered". Over the past 10 years this has seen her assisting clients on interview panels, event management of a Senior Leaders Forum which was attended by 180 people, a number of small change management projects, logistics management and hosting of visiting officials from the Kazakhstan government to name a few. She also managed to squeeze in time to be the Chairperson of a Body Corporate completing a four year leaky building repair project. This confirms that Jann is one of those "CAN DO" people and if you twist her arm enough she will take on the challenge.
Sue Blair
Associate
sue@denovo.co.nz
64 4 915 5350
021 658 152

Sue Blair joined the de novo team as an associate in 2010 and brings over 20 years recruitment industry experience to the de novo team.

During this time Sue has had the opportunity and privilege to work with many outstanding New Zealand businesses, clients and candidates, many of whom she has dealt with for much of this period. This knowledge and experience is now well utilised in her capacity as a consultant working in partnership with a diverse range of business on staffing, training, business development and HR related initiatives.

Her time in the industry has included being part of the establishment team for two successful businesses, one of these being for a leading international recruiter and managing the Wellington office which became the Australasian award winning operation.

Sue specialised in executive recruitment for 12 years with a particular focus on roles in general management, marketing, sales, communications, operations and service delivery for clients in private, public and Not for Profit sectors. She has also worked on many recruitment projects that have involved volume recruitment, change management and restructuring. As a result Sue has extensive networks and contacts in these areas, particularly so in the Wellington market.

Feedback from those who have worked alongside Sue over this time suggests she has a reputation for being engaging, energetic, positive, professional and passionate, and also knowing how to have fun. Colleagues and clients see her strength in relationship management resulting in open transparent processes, a thorough understanding of individual and team needs and a collaborative approach to achieving desired outcomes.

Specialties
Talent Sourcing, Talent Management, Tailored recruitment solutions and techniques, Career Transition Coaching, Career Strategy Coaching, Interview Technique Coaching, People Development